Support You Like a Wonderbrah
RadarOnline has a fresh take on the rising popularity of the V-neck.
Excerpts! Excerpts!
According to Mark-Evan Blackman, chairman of the menswear design department at the Fashion Institute of Technology in New York City, the renaissance of the deep V-neck T-shirt is directly tied to the popularity of the basic white tee, which he says came into its own over the past five to seven years.

"It became a nice, really inexpensive, good-looking item that would always look fresh in the summer," says Blackman. "[The white tee] was embraced by lots and lots of people. We saw it being worn on everyone from Compton to Westport, Connecticut."

Blackman says that, like any good fashion trend, as soon as the basic white tee became too ubiquitous, people set out to redefine it. Thus, the rise of the V-neck.

Fash-Forward or Fruity Shirts?
Since the innernuts is abuzz of the recent announcement of the Louis Vuitton x Comme des Garcons collabo, I decided to post this video of Commes' spring/summer 2009 shirt finale. What's the verdict, ya'll?
[youtube=http://www.youtube.com/watch?v=WCEV2U1ZchQ&hl=en]
I like how the audience is all standing in a straight line to watch. So very Un-American.
And can this collabo be a good thing or bad?
Pharrell for GQ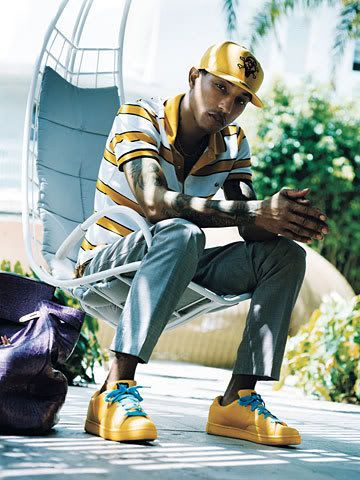 Pharrell has always had this ability to look cool.
No matter what he's wearing, whether it was something out of his Billionaire Boys' Club line or a designer brand, or a plain white tee, he has this look of confidence. You could argue that he gets it from being a hiphop and fashion icon, but I don't think the amount of swagger that Pharrell exudes can be taken solely from outside perceptions of him. He definitely was displaying very high levels of coolness early on even before he became super-famous. There's no amount of media-training that can teach you that kind of confidence (i.e. Clay Aiken). For me, it's his nonchalance in everything he does. Its his way of making it look easy or making it look like he's not even thinking about it, even though every part of his outfit on any given day looks painstakingly picked out.
Louis Vuitton Spring Summer 2009
[youtube=http://www.youtube.com/watch?v=RbfHWEBaXUg&hl=en]
Featuring the use of black, white, and yurple.
Lacoste Does it Live
[youtube=http://www.youtube.com/watch?v=-hGax33g6KE&hl=en]
Lacoste has now gone "3D" with its interactive windows in the Notos Galleries Department Store in Athens. It reminds me of the Abercrombie and Fitch greeter at The Grove in Southern California. As people entered the store, a topless male model would greet everyone with their bulging pecks and their washboard abs. The premise was laughable and made me feel inadequate at the same time. The Lacoste display features tennis on the Nintendo Wii and a rotating platform of models posing for passersby. Of course, our favorites of the display are: the models acting like they're teaching each other tennis with wooden rackets, the man doing the inexplicable headstand at the 1:09 mark, and the fog machine. It looks like the models are slowly being attacked with tear gas.
I'm going to work on my sit-ups now.
NOOOOOOOOOOOOOO!!! I'm sorry, Janelle Monae!!!
I got an e-mail that I was hoping to get all week. But unfortunately, I got the e-mail hours too late! I was gonna pull crazy moves this week to make this happen if I knew about the e-mail earlier. But I refuse to have regrets about something I don't have control over. Forward motion!
Hello!

Thank you so much for your interest in being an extra for Janelle Monáe's first shortfilm, Many Moons! You are about to be a part of history!!! We are excited to have you as an extra on set!

Here are your details:
"Thirty five people couldn't count"
"On two hands the amount of times you made me stop,
Stop and think why are you being such a dickhead for?"
Download: Dickhead – Kate Nash
Fast backward in time