Moisturize Your Situation, Preserve Your Sexy
[Photo by Sean John Fragrances]
Nope, it's not another spot for Proactiv. Diddy is cashing in on his strongest suit, the art of concocting fragrances (ha!). The fragrance is named "I Am King." And the marketing is perfect for the superiority-complex-ridden demographic. His last fragrance did very well and everyone murmured about it as if it charted #1 on the eau de toilette box office, so I can't say much about it. This makes me want to put some cologne on in my hotel room as I repeat, "King of the Castle. King of the Castle. I have a chair. King of the Castle." Appropriate, no?
There's a limited-edition box made of clear plastic that bears Combs's loopy signature (that's $100) as well as the jejune edition, which comes in cardboard and costs $57. In this product, Hampton sees not only the possibility of smelling nice but also being an agent for social change. As he explains to Janelle Grimmen of Vibe Magazine, "I Am King is about how everybody can be king. P. Diddy, for instance, grew up poor and he achieved his dreams." Now that dream is available in a bottle, just like a genie.
Casual Monday
Corporate dress code bureaucracy makes me feel funny. My office is business casual. Business casual = no jeans. Casual Friday, then, equals jeans. Because we couldn't have Casual Friday (client interaction) last Friday, we were given a Casual Monday, today. Now, since I could never tarnish the sanctity of the Monday, I came up with this:
To me, this is business casual. Clean jeans, white oxford classic, vintage-conservative tie, secure belt, and ruffles from a long day at the office. It's sturdy, durable, respectable working wear. I feel like I can face clients with poise and professionalism, comfortably. I wish I could wear this everyday, but I can't. It's frustrating. Corporate dress code bureaucracy.
I think that as long as jeans are conservative and clean, they can be incorporated into business casual. What do you think? Let's start a petition and bring it to the principal saying this dress code is whack!
Corporate America, I will work inside you, but I will never let you steal my soul.
Rugby – Fashion by Ralph Lauren
Ralph Lauren web promo video with Kerry Degman
[youtube=http://www.youtube.com/watch?v=0o0YRfiVq6s]
The Olympics are Over
The closing ceremony was yesterday. I look around and no one (fashion bloggers, at least) has really given it the sentimentality it truly deserves. It's almost like the Olympics didn't exist or weren't real. Well I decided to give it its proper farewell. It is probably the best Olympics that we won't see for a very long time. China spent an estimated $40 billion on the Games. No one's going to come close to that figure, especially London. While on the topic, they managed to paint London completely corny, from the double-decker bus, to the horrific dance routine at the bus stop, to Leona Lewis and Jimmy Page, and then finally to David Beckham. Beijing passed the torch to London and they embarrassed themselves
Marc Jacobs gets t.A.T.u.'d
Russian lesbians and part-time sangers of all things lesbian, t.A.T.u., have been picked up as the new faces of Marc Jacobs. Ah yes… we still remember that MTV award show where they had a copious amount of female dancers in tighty whiteys running around as t.A.T.u sang their hit smash, "They're Not Gonna Get Us." Or was it "All The Things She Said" ? Somehow, those two songs have mashed together in my head to form one song and the accompanied visual are schoolgirls running in white briefs. Ok, we don't remember it that well, but we do remember it as the height of their career.
The Steel Closet presents … Daft Punk's "Electroma" iTunes Giveaway!
The Steel Closet is holding a contest and giving away free shwag! But it's only for the hardcore Steel Closet fans. The first three people to answer all five questions correctly get a free iTunes download of Daft Punk's new film, Electroma. The contest is only open to U.S. iTunes users.
1. Who was our first commenter on the blog?
2. Who are the members of the Steel Crew and where are they from?
3. Who is giving Cas free jeans? (Hint: polka dot)
4. For what Japanese animated film did the Daft Punk album, Discovery, become the soundtrack?
5. What kind of kite did we fly at the Berkeley Kite Festival?
Send your answers to steelcloset [at] gmail [dot] com and win a free movie!
Jesus Jones' "Right Here, Right Now"
Take a look at this, kids: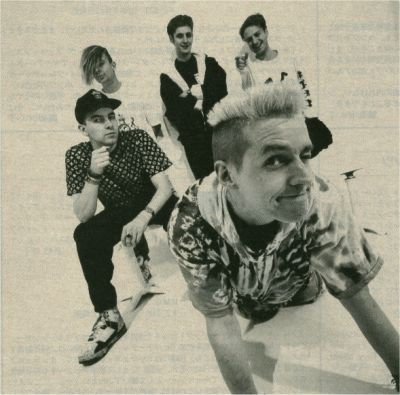 I don't know about you, but to me, despite the aged-looking photo, they look like your typical upper-middle class teenagers who enjoy skateboarding, loitering, and overpriced tees. But this picture is from 1990, and the people pictured are the indie-electronica rock band, Jesus Jones.
Not impressed?  Think about it.  Some guys eighteen years ago, or maybe just the guy on the left, dresses like kids today.  Skinny jeans, all-over-print shirt, fitted cap.  Its like stepping into a time machine and not realizing it.
Fast backward in time