The Financial Politics of The Dinner Party
Ho man! In my search for a good image to discuss the complications of "the dinner party." I seem to have stumbled upon this overly powerful poster. Is it wrong that this poster makes us laugh uncomfortably? There's like 4 people having a good time, 1 angry, and 1 victim. All-in-all, the majority of that room is enjoying themselves. On that note, The Steel Closet does not condone any sort of laughter in the presence of actual domestic violence at a real dinner party. We do, however, enjoy a good poster that caricatures 4 adults who do nothing but guffaw right before the bro gives the lady (who also happens to be dressed like a milkmaid) a shiner.
That has got to be the longest digression before going into the actual topic at hand: the messy dinner party. John Swansburg of Slate goes in depth of his horrific experience at a dinner party in celebration of his friend's 30th birthday. I feel for him because there was so much out of his hands, but everything that happened is all classic dinner party protocol.
Classic Dinner Party protocol includes:
Tobi Two Year Anniversary Party @ Mezzanine SF
I feel severely under-dressed."
The thought skittered through my brain as the Steel Crew rolled up to the queue that had formed outside of San Francisco's Mezzanine. With street lamps glaring down and a warm red glow emanating from the neon signage, the rest of the crowd looked pretty damn fabulous.
I guess that's to be expected at a popular club in San Francisco. On a Friday night. At a fashion show.
The Steel Crew attended tobi.com's anniversary party last Friday night, celebrating two years of providing customers with the luxury of personal shopping assistants along with the convenience of stay-at-home-in-your-jammies online shopping.
"I feel severely under-dressed," I repeat out loud to the Crew.
Sartorial Rule #38: Make sure you're dressed for the occasion.
I feel reassured as Marius, handsomely clad in dark jeans and crisp buffalo-check flannel, tells me that he's in the same boat, having gone to tobi.com and followed their suggestions for party attire. Tobi says, "Whatever you like! There's no dress code." Their suggestions scream comfort, good times, non-pretentiousness. All of the Party Approved Attire Models would look equally at home holding crystal stemware at a seaside loft or red plastic Solo cups in someone's garage.
I guess I had forgotten Sartorial Rule #1: Wear what you like. Like what you wear. As my insecurities ebbed away, I threw down for my ticket and Red Stripe voucher (HOOORAYY BEER) and managed to hide a grin while the "VIP" line didn't budge an inch.
DJs Danger & Spitzer on the cutting room floor.
I get the feeling that's what tobi.com was going for with this shindig. The Red Stripe overflowedeth, with the jeans-and-tees crowd rubbing elbows with the black dresses and high heels. After a brief welcome from our hosts Cathy and Corina (dressed in black and grey numbers that reflected the casual chic feel of the evening), the models took to the runway, showing off select men's and women's looks for Fall and Winter 2008.
Photos by Casanova Ruffin, who sometimes moonlights as Peter Parker.
Safe does not have to be boring.
John Varvatos Spring/Summer '09
John Varvatos always has those pieces that would really be great additions to your wardrobe. I wouldn't try to go all out John Varvatos or else I'd risk looking like Russel Brand. In other John Varvatos news, John Varvatos considers switching to Milan shows.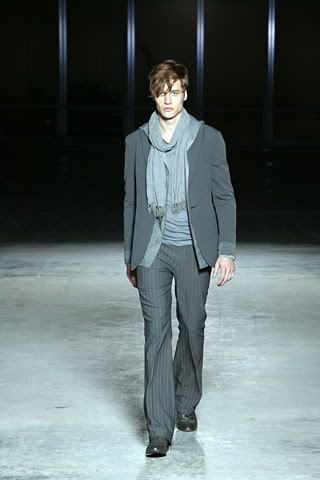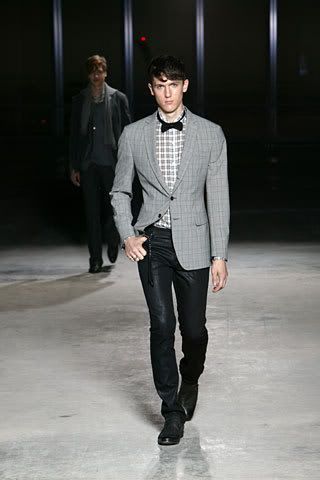 40 Years, 40 Looks for Ralph Lauren TV
Here is something for the ladies.
[youtube=http://www.youtube.com/watch?v=xXxzgkSaqXQ]
Talk about timeless.
A Glimpse of Pastelle by Kanye West
A shark-fin hoodie from Kanye West's Pastelle line
[Photo by Adam Tschorn/ Los Angeles Times]
It's not surprising that Kanye West would come out with a clothing line. You cannot be a fashion icon and not try your hand at designing. It was always in him. But ever since the fashion aficionado announced his Pastelle line, it has become one of the most anticipated collections that has yet to be introduced.
As the end of Paris Fashion Week drew to a close, it turns out that Kanye was giving the people a taste of Pastelle as he sat front row at numerous fashion shows…

In the Spirit of Wimbledon,
we honor those who graced the grass runway…

Maria Sharapova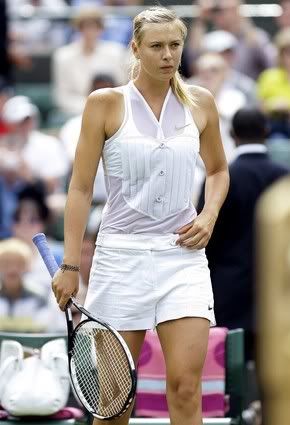 [Photo by Alastair Grant / Associated Press]
Serena Williams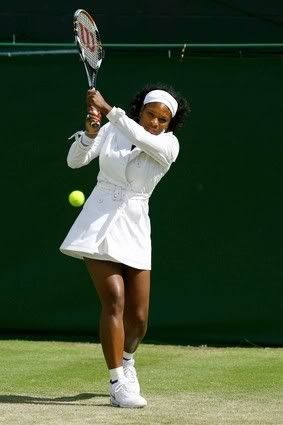 [Photo by Clive Brunskill / Getty Images]

Fash-Forward or Fruity Shirts?
Since the innernuts is abuzz of the recent announcement of the Louis Vuitton x Comme des Garcons collabo, I decided to post this video of Commes' spring/summer 2009 shirt finale. What's the verdict, ya'll?
[youtube=http://www.youtube.com/watch?v=WCEV2U1ZchQ&hl=en]
I like how the audience is all standing in a straight line to watch. So very Un-American.
And can this collabo be a good thing or bad?
Fast backward in time