For Your Enjoyment | Some Super Bowl Prop Bets
WORDS BY KDOUBLE
For most of us, the Super Bowl is the culmination of another year of disappointment. I should know. I'm an Eagles fan and I think they pretty much wrote the book on disappointment, and then they came out with the movie followed by the American Pie -style bludgeoning of straight to DVD sequels. So how do the rest of us actually enjoy our Super Bowl viewing (assuming you're not enjoying the unintentional comedy of a SAFMSBP?)
Prop bets! Of course! Print out these bets, arrive early to your party and get the gambling going. Prop bets are great because literally anyone can take part in them regardless of their interest in football, grasp of simple probabilities, or even ability to communicate beyond mouth clicks and rapid eye movements (I have friends that actually believe that Africans like me communicate like this.) There are literally hundreds of these bets such that the football degenerate can go crazy when a safety is scored (and pays him 10:1) AND the struggling slashie (mode/actress/ waitress/ reason to live) attending your party can take the over on how many times Hurricane Katrina will be mentioned. Let's take a look at a few, shall we?
Prop Bet # 1. Kim Kardashian appearances on TV (over/under 2.5)

:\
Come on Son! The 10 Worst Hip Hop Name/Personality Changes
WORDS BY PETITE ANGLAISE

Mind you this list is extremely bias and more or less useless, but it does showcase some very popular artist in the hip hop community that changes they way we think, what we wear, and how other perceive this genre. With the title of #1 bearing the most changed artist in this genre and 10 being the least but just as morphed, this short list of recent and past rappers/entertainers highlights the ever evolving genre that is Hip Hop.
:\
Ice T is no longer a NWA. Even with Coco at his side, Ice T has lost much of his pimptastic street cred. Why? Cause money is the root of all evil, and so is his role as Detective Odafin "Fin" Tutuola on Law & Order SVU.
Diddy considered to replace Daniel Craig in upcoming Bond films…
…if by "considered" we mean "dreamt up by Diddy in a Hennessey-induced hallucination." Despite the fact that Craig is contractually signed to three more Bond films after the success of Casino Royale and the blockbuster sequel Quantum of Solace, Diddy has poured his own money into what appears to be an audition tape for upcoming sequels – and because it's Diddy, he spared no expense. The five minute video reportedly cost over $750,000 to shoot, and while its main purpose is to promote his new "I Am King" fragrance, it is also intended to serve as his calling card for future Bond installments.
This comes not too long after Craig was quoted as saying, "…I think it's the right moment for a black James Bond. If we can have a black US President, I think we might have reached the moment for a new kind of 007." Considering how divergent Craig's rough-and-tumble Bond is from Ian Fleming's original molds, it's not too far-fetched to consider another new turn for the world's most famous secret agent after Craig hangs up his tux for good.
Unfortunately for my man Puffy (remember when he was still Puffy? Okay, there's your obligatory Sean Combs name-change joke), Bond has to do a little more than sip champagne with models in exotic locales. The "action" in the video consists of nothing more than jet-skiing (in slow motion)…and you can't even really tell if it's Diddy on the jet ski. It does, however, remind me of the glory days of Bad Boy Records, pioneers of the music video slash mini novela. Sorry Didds, but it might be a long time before you earn your double-oh status.
Janelle Monae featured in GQ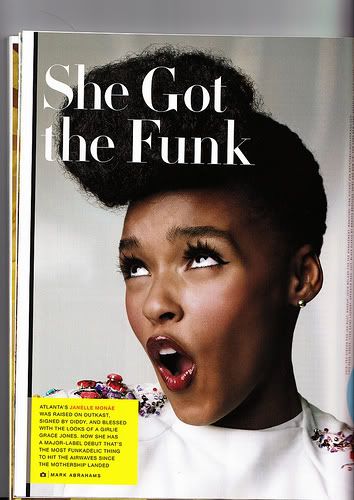 Have you ever seen that thing fall apart? I have, and I've seen it come back together again.
I try not to get hipster with Janelle Monae. Meaning, I try not to hate the fact that people are starting to discover her, after 2 years it seems.
Moisturize Your Situation, Preserve Your Sexy
[Photo by Sean John Fragrances]
Nope, it's not another spot for Proactiv. Diddy is cashing in on his strongest suit, the art of concocting fragrances (ha!). The fragrance is named "I Am King." And the marketing is perfect for the superiority-complex-ridden demographic. His last fragrance did very well and everyone murmured about it as if it charted #1 on the eau de toilette box office, so I can't say much about it. This makes me want to put some cologne on in my hotel room as I repeat, "King of the Castle. King of the Castle. I have a chair. King of the Castle." Appropriate, no?
There's a limited-edition box made of clear plastic that bears Combs's loopy signature (that's $100) as well as the jejune edition, which comes in cardboard and costs $57. In this product, Hampton sees not only the possibility of smelling nice but also being an agent for social change. As he explains to Janelle Grimmen of Vibe Magazine, "I Am King is about how everybody can be king. P. Diddy, for instance, grew up poor and he achieved his dreams." Now that dream is available in a bottle, just like a genie.
Fast backward in time