Adapt Women's SS10 Lookbook
Now available at Adapt
Adapt SS10
Adapt dropped off their Spring Summer 2010 lookbook to us. I've got to say, it's one of their best seasons yet.
Check it out at Adapt, dropping Friday.
Undrcrwn x Mos Def "Cut & Sew" Collection
Polished and mature, the new collection effortlessly blends collegiate athleticism and style. The "RBG ," "RBG Patchwork" and "Brooknam" jackets are each peppered with plenty of clever details. Colorful hand crafted prints (mixed with hand drawings by Mos Def) are set against sleek monochrome materials; Pops of zesty yellow and blood red are used to accent buttons, zippers and mesh linings. The mixture of bold prints set against streamlined design creates a contemporary fashion sensibility throughout the entire collection.
Check it here: http://www.shopundrcrwn.com/
Upper Playground April Release
For those of you that don't know, Upper Playground's Walrus mascot has slowly transformed into San Francisco's mascot.  There's no other animal more widely represented than this ubiquitous mammal as Bay Areans are more likely to support their local brands.  It doesn't look like that's going to change anytime soon with Upper Playground's latest release.  The "Walrus Crowd" graphic features a gang of walruses, embroidered in regal purple, literally swallowing the cap.  Also in this release a David Choe mural graphic printed on satin.  The graphic is detail heavy due to the sublimation print technique, which allows for the fine lines and shading of Choe's drawing to really come through.  Both the "Walrus Crowd" graphic and the David Choe mural graphic come in matching hoodies.
Click for more pictures of the release…
10.Deep pushes stamps. Kind of.
You might remember in my one of my earlier posts about how we'd be seeing even more plaid/flannel this season, along with an almost universal resurgence – nay, regurgitance – of M65-inspired jackets.
Well 10.Deep dun went and did it. "Oh no they di'int!" Oh yes they did.
Behold: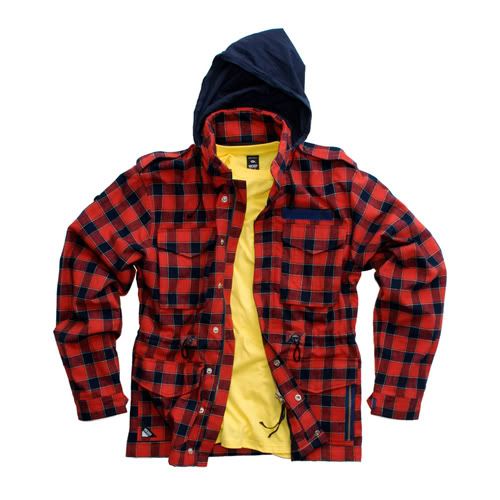 Not just plaid. Not just M65. But a plaid M65.
It's like "original" to these people ain't nothing but the name of a fried chicken recipe. Ugh.
But if you check out the rest of the lookbook, you'll see that they've got a pretty stunning season in store for us.
The Man of Steel is a decades-old icon of American strength and persistence – and a great spot for 10.Deep to start pissing on. Their "Problem Solvers" motto has never seemed more relevant.
Slamxhype.com gets major, adds more garbage to front page
I don't want to really lob hate bombs at one of the best (content-wise) urban/street/stufftobuy/lifestyle online magazines out there, but it looks like Slamxhype decided to stick with this new format to better organize the scads of scenes and beats that they cover. Different tabs for different scenes, instead of the normal eye-melting aggregate.
I don't like it. Big surprise.
The Hundreds WOW me
The Hundreds, a streetwear clothing brand for lack of a better word, just released the 2nd drop of their fall collection and I was impressed. I've been following the brand a lot recently because their website is so addictive, but I could never understand why I kept coming back. I don't get into streetwear much. I've been dressing in ties and the like since my senior year in high school. The renaissance of streetwear culture had not hit the mainstream yet. And personally, I feel a little old to be wearing graphic T-shirts and jeans as my going out clothes. The Hundreds, on the other hand, are really marching to a beat of their own tune, and there is something very respectable about it. Their interpretation of California Culture blows my mind with the way it resonates with so many people. They take images that the people of Cali probably see everyday and they put their twist on it. The result is a new-found appreciation for the visuals that surround our everyday life.
Fast backward in time